Travel
ain dubai tickets Price And Opening Date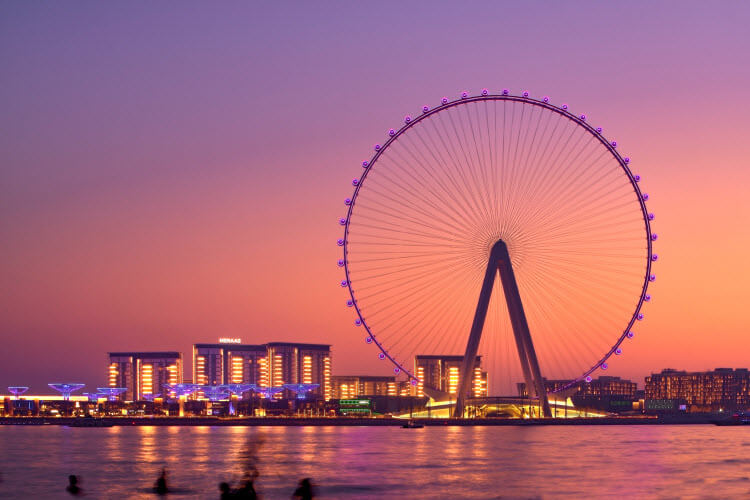 Have you ever imagined that you could use your eyes as a camera lens and zoom out to take a helicopter look on the street from above? Logically you cannot do this however, it is possible in Dubai.
AIN DUBAI is registered as the largest observation wheel around the globe, and it is even bigger than LONDON EYE and HIGH ROLLER in Las Vegas. Maybe the idea comes from there but, still bigger than both when it comes to height, capacity, and the rotation time. And let us be honest that is a wonderful sightseeing to have in your country.
And here is a nice to know fact. Eiffel tower used almost only 6700 tons of steel however Hyundai Contracting and Starneth Engineering had to use almost 9000 tons of steel to finish building our great wheel.
As we know, Rome was not built in a day, so it took almost five years since the construction work started for you to be in one of the 48 cabins of this wheel enjoying the panoramic view of the city. The plan of building this 820 ft took place in 2013 and the actual construction work started in 2015 and finished in the middle of 2019. The sad fact here is that the opening got delayed taking place on the 20th of October 2020 to be at the same time as EXPO 2020, but then it got delayed again because of COVID-19 Pandemic.
The happy news is that the opening is taking place on the 21th of October 2021. It is only a matter of time for you to be one of the 1400 passengers that this wheel can contain and enjoy the view of Dubai Marina and the landmarks of Dubai such as Burj Al Arab, Palm Jumeirah, and Burj Khalifa and enjoy the reflection of the sun on the top parts of Dubai's skyscrapers. So, we can say that this is going to be the most amazing and relaxing 38 minutes of your life which is the time you will spend in the wheel's cabin.
Ain Dubai is not only about the view from between the arms of the sky, but the base of the wheel will also be used as an entertainment area with restaurants and coffee shops so that you can enjoy both the greatness of such project and the nice time you will spend with your companions down there.
When you go online to purchase your ticket, you will find more than one option and different price for each type of ticket. Through the next lines, we will help you to figure out which ticket you should purchase so that it won't take you so much time.
When you go on their website, you will find three types of cabins (Observation Cabins – Social Experience – Private Cabins)
Observation Cabin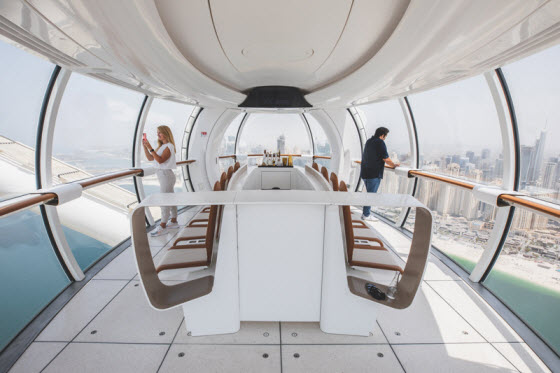 Starting with the observation cabin, it starts from 130 AED per ticket per person (AIN DUBAI VIEWS) and this is the basic one it includes a 38-minute ride including a sunset view if you wish, with no extra things included you just enjoy the fabulous view.
The next level is for 370 AED (AIN DUBAI FAMILY PASS) and it includes access for two adults (one of them should be above 21 years old) in addition to two children (Between 3 – 12 years)
Then we have (AIN DUBAI FAMILY PLUS PASS) for only 450 AED. It is the same as the pervious one, but you get to have snacks and beverage for you and your children.
 Social Experience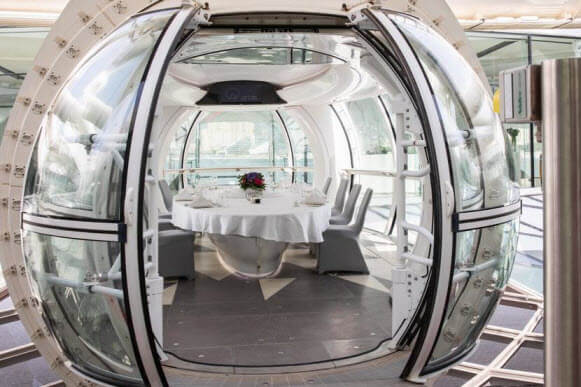 The ticket in social experience starts at 175 AED per person (AIN DUBAI LOUNGE PLUS – +21) and includes a premium check-in and 1 house beverage in the Seaview lounge and you get the service in a shared cabin.
Then we move up to 200 AED (AIN DUBAI VIBES PLUS +21) with two beverages served in the cabin's sky bar and you get the service in a shared cabin.
Then we have the highest one in this category for 250 AED (AIN DUBAI PREMIUM) it comes with food and beverage options, and you get to have a premium cabin.
Private Cabins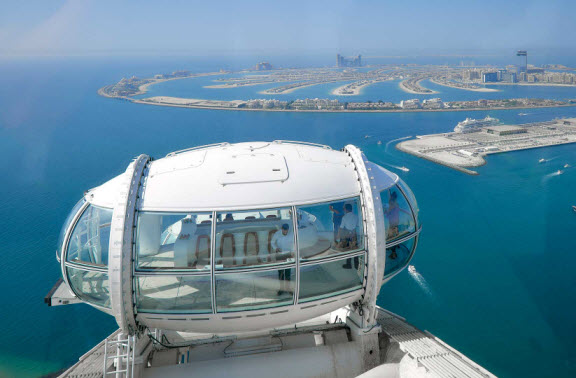 The private cabins start from 1150 AED (CELEBRATE AIN DUBAI CLUB) including options for premium check-in.
And for 1900 AED you can purchase (CELEBRATE AIN DUBAI PLUS) and you will enjoy a private luxurious high ceiling cabin, suitable for celebrations.
Now you may enjoy a nice comparison between the biggest three observation wheel around the world,
| | | | |
| --- | --- | --- | --- |
| FACT | AIN DUBAI | LONDON EYE | High Roller |
| Highet | 250m+ | 135m | 167.6 m |
| Duration | 38 Minutes | 30 Minutes | 30 Minutes |
| Capacity | 1400 | 800 | 1120 |
The Wheel operating hours start at 12:00 PM and ends at 22:00 PM and they require the guest to show up one hour early before the scheduled time of his tour.