general
Best 21 Coworking Space In Dubai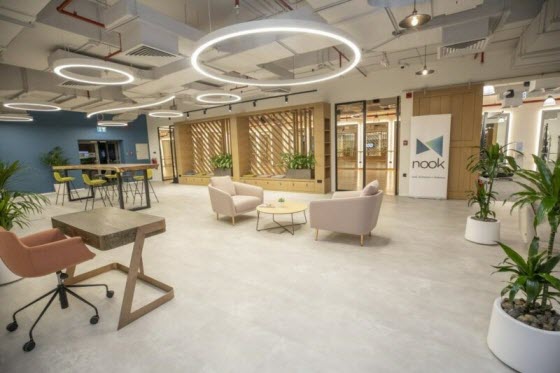 Two years now since the pandemic started, most of us have been working from home, and as good as it sounds, I'm sure we'd all agree that we have been seeking some change of scenery. First idea that would come to your mind is to find a quiet and safe co-working space to work or study in.
There are a lot of co-working spaces in Dubai, but given the current circumstances, our main target is to find the safest options, and so, in this article we will provide you with the best co-workings spaces in Dubai.
Dubai Co Working Spaces

Let's first explain the idea of a Co-Working Space; A Co-Working Space is a wide area that provides the perfect environment for anyone that needs to study or work, and it can also provide the place for start-ups, small business and Entrepreneur meetings.
Below, we will be mentioning some of the best and safest co-working spaces in Dubai.
Nook
One of the most famous Co-Working spaces in Dubai, preferred by those interested in sports and healthy lifestyles. They offer Wifi, Printing, Gym, meetings rooms, event spaces, offices and studios, etc.
Prices:
For shared spaces prices start at: 2,500 AED a month.
For private offices: 4,450 AED a month.
For fixed desks: 3,000 AED a month.
For company registration: 499 AED.
DMCC trade license: 11,000 AED a year.
Membership packages starts at 500 AED a month.
Nook is located in Jumeirah Lakes Towers, One JLT, on the second floor. Available every day from 8am to 8pm, except Saturdays and Sundays they're available from 9am to 6pm. And you can contact them through:
+971 52 829 1375
+971 44 054 100
Their website
Nest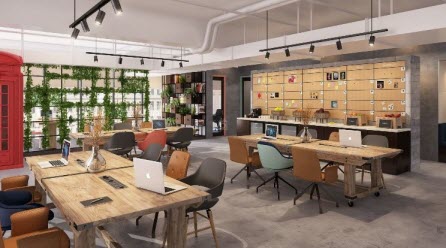 Nest is a worldwide co-working space, and is commonly preferred among freelancers. Here, luxury and comfort meet, it is the perfect spot for someone who needs to work in a relaxing environment.
The place is 3000 sq/ft, has a capacity of 170 people. Nest has a lot to offer, besides the meetings rooms, spaces for social events, and coffee and snacks access, they also have an indoor garden zone, gym and spa access, and pool access!
Prices:
One-day entry: 99 AED.
For 10 visits a month: 899 AED a month.
Unlimited access is for 1,499 AED a month.
You will find them in Al Saef 1 Street, 1st Floor, Barsha Heights. Available every day from 8am to 9pm, except weekends they're available from 8am to 6pm. You can contact them through:
+971 4 247 6699
+971 4 247 6677
Their Website
AstroLabs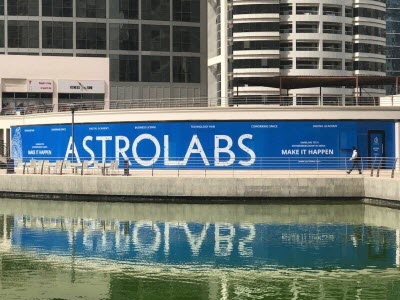 If you want a place with actual success stories, a positive working vibes to help you with your business, especially if your work is tech related, this place is made for you.
Membership packages start from 750 AED a month. Located in Cluster R, Jumeirah Lakes Towers, Dubai. And the surprise here is that it's a 24 hour co-working space!
You can reach them through their website.
A4 space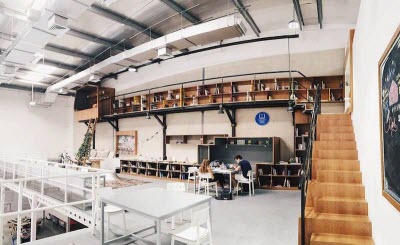 This place is a free to use co-working space! Located in the art hub of Dubai, Warehouse 4, Alserkal Avenue. It is 6000 sq/ft, and the whole place is made to give off organic and artistic vibes. You can also get yourself coffee or a sandwich if you wish, but other than that, no payments required.
They work every day from 10am to 7pm, and Fridays are off.
You can reach them through: (050) 5569797.
Let's Work
Let's Work is special, because it isn't just one fixed place you go to, this place is available in various places so you won't get bored, you sign up and pay online, then you can go to whatever location that suits you!
You can find them in various places:
Rove Hotels
Ostro, Dusit D2 Kenz Hotel
VIDA Downtown
For more details and information you can call them on +97142455354, and you can also access their website.
WitWork
This one as well offers their services in various locations so you can choose what suits you best.
You can reach them through their website, or you can all them on +971 50 622 7614.
Keep in mind that their working hours and prices differ depending on their location.
Our Space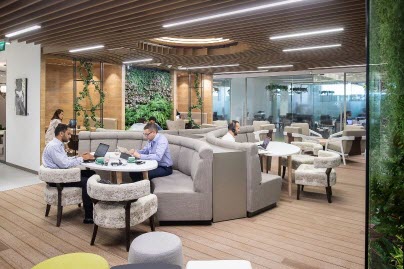 Our Space is at Lamborghini, Sheikh Zayed Road, exit 41, and is open 24/7, some facilities won't be available at all times, yet it does offer the materials and vibes you would need for your work.
Prices:
Hot desk packages: starts at 1,950 AED a month.
Private desk packages: starts at 3,249 AED a month.
Available from Sunday to Thursday from 9am to 6pm. You can access their website for more details, or you can call them on 04 524 0434.
Nasab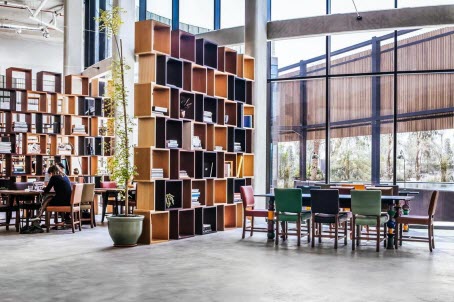 This one is made for our entrepreneurs and small businesses out there. It offers endless facilities elegantly designed. It also offers workshops and events regularly. What's cool about it, is that offers two pools and a gym, that's beside the fact that it's available 24/7!
Prices:
Wellness package: 450 AED a month.
Resident membership starts at 1,500 AED a month.
Nasab is located at Koa Canvas, Wadi Al Safa 3, Dubai. You can reach them through their website, or call them on +971 4 886 8182.
UNBOX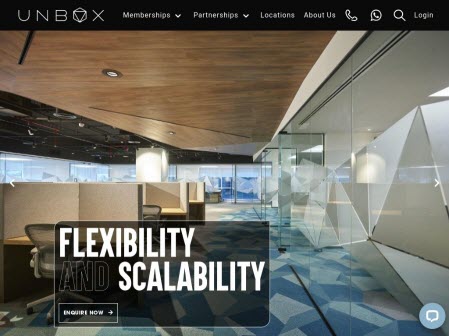 This place is for everyone! Either a start-up, an Entrepreneur, a small business, a normal person who just simply wants to work somewhere nice, or even a student looking for a special place to study, this place welcomes everyone with the positive environment needed for a productive day.
UNBOX welcomes you anytime as they're available 24/7.
Prices:
Hiring a hot desk is 57 AED a day.
Hiring a dedicated desk is 2099 AED a month.
Hiring a private office can be 8500 AED a month.
For further details you can check their website, or you can call them on 0097148716700.
Urban Studio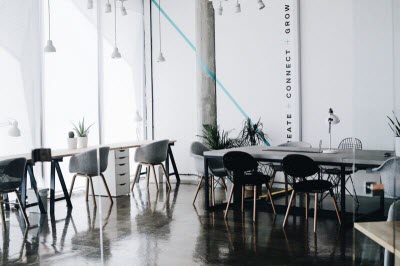 Urban Studio calls out for all the creatives out there, it is the place for you to shine, the design and environment will help you with all you brilliant ideas!
The place offers meeting rooms, Group seating, library, printing services, private office spaces and of course they offer coffee.
Prices:
One day ticket: 55 AED
One week ticket: 310 AED
One month ticket: 1200 AED
They're available Sunday to Thursday from 9am to 6pm, Saturdays from 9am to 4pm, and Fridays are off. Their location is: building 7, office B-107, Dubai Design District.
The Bureau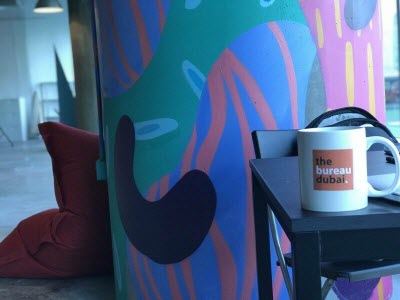 The Bureau is uniquely designed with the intention to help you relax and focus, it is also a home for several successful start-ups.
Prices:
50 AED per day
500 – 1000 per month
They're working Sunday to Thursday from 8:30am to 6pm, Saturday from 10am to 3pm, and Fridays are off. They're located at 530, Saaha Offices B, Downtown Dubai.
For more details you can call them on +971 4 4272100, or email them: [email protected].
The Co-Dubai
You will find it in Souk Al Bahr, Down Town Dubai, it is fancy, comfy and flexible. It serves as both, a co-working space and as an incubator.
Their week pass can start from 210 AED. For further details you can check their website, or you can call them on +97144272100.
The Cribb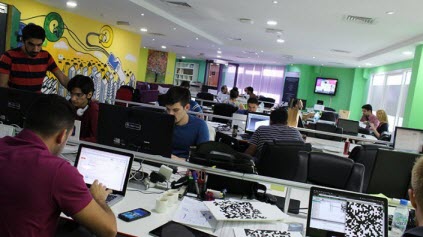 The Cribb accommodates your business needs regardless of size. Their space is intended to suit all purposes, from meetings to freelancing to intensive office work. You can become a member by signing-in at the entrance and settle into one of their hot desks.
The basic access to the facility is free, but you can rent an office for a day for 70 AED. If you want a month pass you can rent your space for 800 AED.
You'll find it at: Mezzanine floor, 15A Al Manara Street, Al Quoz-1. And you can also call them onn+971 4 872 3070.
They're available every day from 8am to 10:30pm except Fridays.
1776 Dubai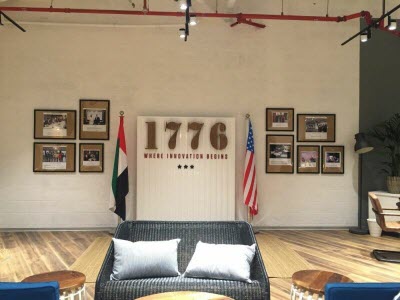 This co-working space is originally from Washington, their first venture outside of the US is this one here in Dubai! It has this vintage style, and the "Where Innovation Begins" on the wall giving you the needed vibes to have a productive day.
Their membership starts at 370 AED monthly, they're available Monday to Saturday from 6am to 3pm. And you can easily find them at Jumeirah Emirates Towers Hotel, The Boulevard.
One Business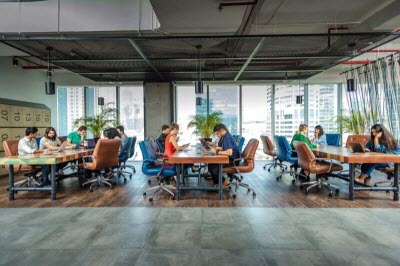 One business's design and their elite interior is mostly suitable for business meetings and events, so if you're looking for a place to host your important meetings, this is your spot.
They offer various services, office space, meeting rooms, modern facilities, event space, office supplies, team support, and the list goes on and on! The place is really a Pro level of service.
Prices:
Shared space: starts at 1500 AED a month
Private offices: 2000 AED a month
Company registration: 499 AED
They're available for your service 24/7, and their location is below:
JLT One (levels 5 and 6), Jumeirah Lakes Towers, Dubai.
You can always call them at +971559175028, and you can also visit their website.
MyOffice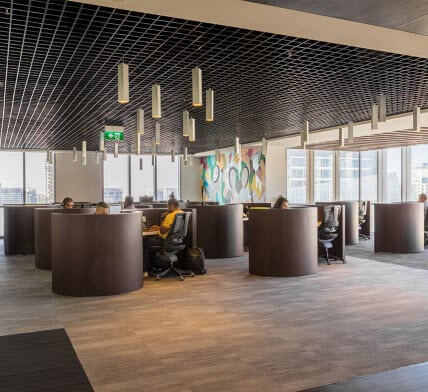 MyOffice is one of the more formal co-working spaces, it prides itself on being a well-established business center in two in-demand locations – Dubai Marina and Downtown Dubai. From company formation to concierge services, event spaces, personalized assistance from their team, you can seek various services as per your requirements. They will also handle all your mail and provide access to both their locations.
Location:
Head office, Level 3 & 14, Boulevard Plaza Tower One, Sheikh Mohammed bin Rashid Blvd, Dubai, UAE & secondary office Level 27 – 29 & 32, Marina Plaza, Dubai Marina, U.A.E.
For further information you can contact the Head Office on +971 4 455 8555, or you can contact Dubai Marina on +971 (4) 424 5000. You can also reach them by email: [email protected]
They're available Sunday to Thursday from 8:30am to 5:30pm.
Dubai Technology Entrepreneur Center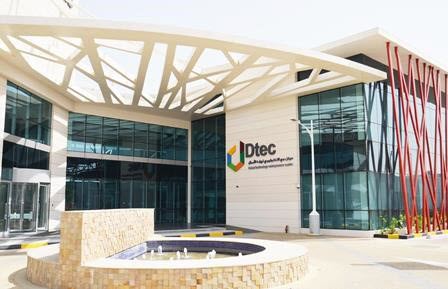 This campus covers over 10,000 sqm space right in the middle of Dubai! It also offers the "out of the box" environment our youth need for their brilliant ideas to thrive. It is not a normal campus, and you have to visit to see for yourself.
The DTEC is available 24/7 at your service, and the memberships details are mentioned below:
Flexi Desk is 900 AED a month
Fixed Desk is 1,500 AED a month
Private Office starts from AED 250/m2/month
For further details please check their website, or call +971(0)45015656.
The Executive Center
The Executive Centre is Asia Pacific's largest premium serviced office provider with over 100+ centers in 30+ cities & 15 countries. The Executive Centre, is the most Premium serviced office provider, focused principally on providing high-quality serviced office customized solutions at the most prestigious business address.
We recommend visiting their website for the pricing information.
Location:
Level 3, One Central Dubai World – Trade Centre – Dubai – United Arab Emirates
You can reach them through:
Phone: +971 4 526 4777
WhatsApp: +971 54 581 9671
Regus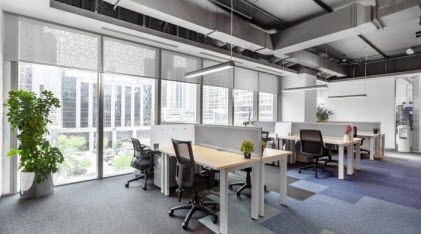 Regus's fully-serviced co-working spaces come with all the details taken care of. An experienced on-site team to make sure everything runs smoothly. You can simply walk in and get to work, while they look after everything else. They're also available 24/7!
Pricing can start from 660 AED up to 2464 AED depending on the location.
You can call them on +971-2-411-4500, you can also check their website for any further details.
Servcrop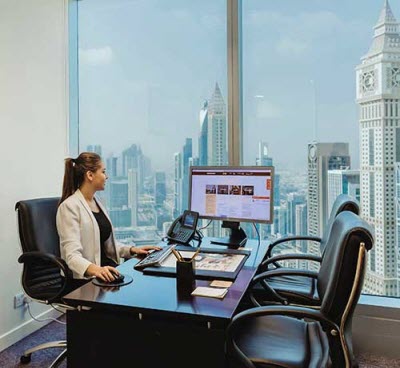 Working in Servcorp grants you access to:
Relaxed spaces
Fruit infused water
Bilingual onsite secretaries to assist you
Highly-trained reception and support team
Community Manager to assist you with your online presence & events
Secure, business-grade technology and WiFi
In-house IT support, just dial *1 from any Servcorp phone
Pricing starts at 632 AED up to 7500 AED a month based on the location and the plan.
For further information please visit their website, or call them on +9714 319 9099.