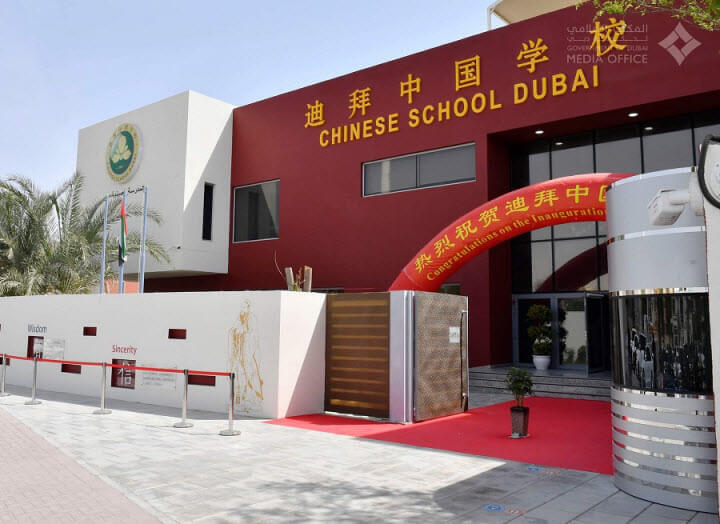 Education is a subject that never gets old, especially when we're talking about our little ones and trying to help build their brains in the best way possible, figuring out the best curriculum for them can be very tricky. But because we always seek the most advanced ways of learning to help our children live up to the future they have ahead of them, we have some good news!
One of the recent and hottest topics that has been going around is the "Chinese School Dubai".
You can guess from the name that it is a Chinese school in Dubai, but what you can't assume is that this is the very first school that follows the Chinese curriculum outside of China!
Chinese School Dubai (CSD)
About the school
To give a bit of an overview, the school was launched Sep. 2021, currently enrolling over 200 children from KG to grade 5. Although it is expected to be dominated by the large Chinese community in the UAE, it will also be accepting all nationalities. The plan for the school is to offer over 2000 seats, and to provide education to children from the age of 3 to 18 years old.
More about the curriculum
The school is led by a group of 37 senior teachers from both China and UAE. CSD curriculum is following The Hangzhou Number 2 model, which has been in practice for over 100 years. The curriculum offers Arabic as a second language, Moral Education, Islamic Studies, and UAE Social Studies as per the UAE National Curriculum guidelines.
School's Facilities
3.1         Sports Facilities:
The school offers sports facilities, providing students access to indoor and outdoor areas, as well as giving the opportunity to be a part of different sports clubs at the Chinese School Dubai.
3.2         Extracurricular Activities:
The school also offers extracurricular activities to help build the creativity and innovation in our children's minds.
3.3         Medical Care:
Apart from having a doctor and a nurse to care about the student's needs, there will also be educational campaigns to raise the awareness around a range of important health topics such as healthy eating, germs, personal hygiene and also breast cancer.
The school has a clinic that will do periodic check on all students, doing eye tests, monitoring every student's health and well-being, and making sure all students are vaccinated on time. Alongside making sure that all the teachers are aware of each student's medical condition.
Health and Safety (HSE)
Given the current global circumstances, the safety factor has become the most important factor that any parent would be looking for in the school they choose, and in CSD's campus, we assure you that besides the basic precautions taken, they will also be using technology to enable social distancing by dividing classes into two rooms, one group to be taught with a teacher, the other group will be watching the live stream of that lesson in the other room!
The school's location
CSD is located in the heart of Midrif, on 58C Street, close to Al Jazeera road and near Uptown Mirdif. Also the school is reachable from other parts of Dubai through the quick access to Sheikh Mohammed Bin Zayed Road.
And if you're looking into the residential communities around this school, there are plenty. The closest one would be Shorooq neighborhood. And other areas that are relevantly close are Ghoroob Mirdif, Muhaisnah, Al Mizhar 1 and Mushrif.
How to apply
The application process is pretty easy and straight forward, you just need to check their website, fill out the application form which you will easily find it on their homepage, and you will only need to pay an application fee of AED 525, inclusive of 5% VAT.
After you submit your application fee you should wait for the school to notify you of the learning ability test for your child, and once your little one passes the test, you will pay the tuition fee and send the mandatory documents which are mentioned below:
Copy of student's passport, visa and Emirates ID
Copy of parents' passport, visa and Emirates ID
One passport size photograph of student (electronic version)
Birth certificate (must be in English or Chinese)
Immunization record and health declaration form
Last two year's transcript or study report
Student's transfer certificate
For more information about these documents and completing your registration you can contact the school on +971-50-675-0399 or through [email protected].
CSD's Fees
Below are the enrollments fees for the current grades:
| | | |
| --- | --- | --- |
| GRADE | TERM 1 FEE | TERM 2 FEE |
| Grade 1 | AED 12,500 | AED 12,500 |
| Grade 2 | AED 12,500 | AED 12,500 |
| Grade 3 | AED 13,500 | AED 13,500 |
| Grade 4 | AED 13,500 | AED 13,500 |
| Grade 5 | AED 14,000 | AED 14,000 |
| Grade 6 | AED 14,000 | AED 14,000 |
How to contact CSD
For more information about the school you can:
At the end, I would like to state that even though this school might seem interesting for the people who live in the UAE, yet I prefer to perceive this school as a new idea, a new advanced technology, cultural exchange and a new open way of learning that will be spreading internationally soon after.