Travel
Dreamland Aqua Park Umm Al Quwain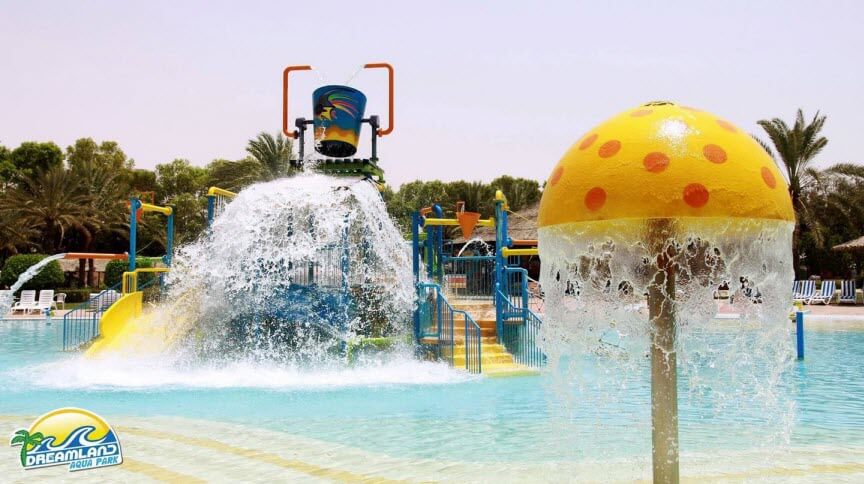 Everyone loves swimming and splashing around in a pool and even if you're on the fence, I have the place for you! Dreamland Aqua Park in Umm AL Quwain will change your mind! It's one of the oldest aqua parks in the United Arab Emirates and arguably one of the best. It's massive as it's built on 250,000 square metres patch of land and was is working since 1997. Dreamland Aqua Park is a very family friendly place with a lot of attractions for kids and adults alike and they almost always have offers and fun activities!
Dreamland Aqua Park in Umm Al Quwain offers free lockers, lifejackets and you won't have to worry about parking because it has a 2000 vehicle free parking space!
Dreamland Aqua Park has over 25 exciting and thrilling attractions for people of all ages and it has overnight waterside camping facilities and a mini zoo! Dreamland Aqua Park also has 5 different food outlets and a poolside bar so you won't be hungry or thirsty when you are enjoying your time!
Attractions
Being one of the biggest aqua parks in the region, Dreamland Aqua Park has a lot of exciting and thrilling rides for you to try! Starting with The Kamikaze!
The Kamikaze in Dreamland Aqua Park is a pair of steep water slides than end in the pool! It's great for you to start your day there as it'll give you the thrill, excitement and adrenaline rush you'll love for the rest of the day!
The Twister in Dreamland Aqua Park is a 40 metres long tunnel slide ends into an open bowl that spins you around before dropping you in the water. The thrilling part and where The Twister got its name from is that it spins you around with all the speed you've gained before dropping you into the pool! It's a very exciting ride that you have to experience multiple times before you are bored of it!
Next on the rides list in Dreamland Aqua Park is the Twisting Dragons! The Twisting Dragons is like a maze but with a twist hence the name. It's a series of twisting and intersecting slides that shoots you out from different dragons' mouths even if you entered from the same spot multiple times! That makes it one of the most exciting attractions Dreamland Aqua Park has as you never know where you'll come out from!
The Black Hole in Dreamland Aqua Park is a giant dark waterslide that will keep you wondering when you'll take a plunge! The anticipation will give you the trills and adrenaline rush you crave!
The Mighty goRound is a series of giant waterslides that twist and turn giving you more momentum and speed before plunging you into the pool! It's an exciting medium thrill ride that you can go to at the end of your ride marathon to have a breather!
After the thrilling rides you can join the Slam Dunk pool to play some water volleyball and basketball or you can relax in their massive jacuzzi and enjoy a drink in the sun!
Want to have an unforgettable experience by seaside camping? Dreamland Aqua Park has got you covered! You can book a tent or a cabana which also covers 3 meals a day so you can start enjoying your day as early as you want and you'll have access to all facilities!
Kids Attractions
Like I mentioned before, Dreamland Aqua Park in Umm Al Quwain is a family friendly place for fun activities with kids!
Kids can try the Pool Game where they challenge themselves to pass an inflatable obstacle course! It'll be exciting and thrilling for them and you can have a quick rest and enjoy a drink while watching them!
There's also the Rafting River which is like The Mighty goRound but for kids! Your kids will take a raft down a giant but shorter waterslide than The Mighty goRound but it's sure to give them a nice adrenaline rush!
Last but not least, there's The Aqua Play. Which is a series of interactive games at a kiddie pool which will make your kids enjoy their time more!
Restaurants
Since you have to spend a whole day in Dreamland Aqua Park, they offer some food and catering options for all your needs!
Starting with the Golden Kiosk, which is a small kiosk that has a variety of fast food and snacks without having to stand in a line. It offers an unlimited choice of coffee, tea and cold beverages like soft drinks, and juices. If you're hungry they offer Lebanese Shawarma in a wrap and an Indian Biryani combo meal.
There's also the main restaurant Atlantis which is air conditioned if you want to escape the heat that offers a continental and Mediterranean buffet filled with seafood dishes and everything you might want!
After a long day you can relax at Saj Zaman, which is a Lebanese restaurant that serves authentic Lebanese food and you can relax in the Shisha Majlis after having your fill!
Conclusion
In conclusion Dreamland Aqua Park in Umm al Quwain is a great place to relax or enjoy thrilling rides when you're in the small emirate of Umm al Quwain. They pride themselves with the quality and safety of their rides and their great food and camping experience! You can check the ticket prices and book your ticket or camping options from their website and we have them covered here.
Ticket and Camping Prices
The general admission ticket for adults is 160 AED.
The kids' admission ticket is 100 AED.
Senior (aged 65+) admission ticket is 100.
Infants and people with any disability can enter for free.
Camping prices are 550 AED for a tent for 2 adults, or 700 AED for a cabana for 2 adults. Camping prices change on the Thursday and Friday to 650 AED for the tents and 900 AED for cabanas. Any additional people are charged 200 AED on weekdays and 250 AED on Thursday and Friday nights.
To check their current offers please call or text them at +971506362217 or you can send them an email at [email protected]