Travel
Dubai Dolphinarium : ticket price, Activities, Opening And more ..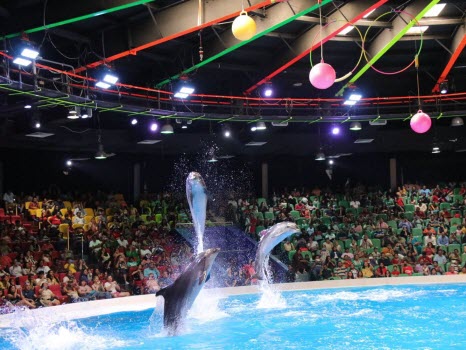 The day is 21st of May 2008, a normal day for all of us but at Bur Dubai, it was not. On this day Dubai Dolphinarium was opened to public to be the first fully indoor dolphinarium in the middle east. Dubai Dolphinarium was one of the government's plans to provide entertainment to the citizens, and it is also one of the ways to show support to the marine life and raise the public awareness towards it.
What makes it special and a different place, is the fun that you will have and joy that will spread among the audience just by watching these beautiful creations called Dolphins. The other thing is that it takes the show between two to three hours only. Which means you still have time for the rest of your day to attend to other activities.
In one day at the dolphinarium, you will learn a lot about dolphins and how they live, eat and spend their time. You will feed them, play and dance and make friends with them. This is one of the activities you make when you feel a little sad or need some positive energy. And not only dolphins (bottlenose dolphins) available there, as they also have seals (Northern fur seals), and 20 different types of birds.
Numbers & Facts
The Dolphinarium is built over a total area of 5,000 Square meter and provides 1250 seats for audience. The dolphinarium facilities include a private habitat area for the dolphins connected to the main pool and filled with 600 cubic meters of sea water. In addition to a separate medical pool and a private pool for seals that fits and suits their nature.
Activities & Events
-Kids activities like summer camps
-Autism awareness day were organized at the dolphinarium in cooperation with Dubai Municipality back in 2011.
-Birthday parties for kids.
-Mirror Maze challenge.
-Capturing pictures with Steller's Sea Eagle.
-Arranging corporate events.
-Creek Park Bird Show.
-Swimming with dolphins.
Activities in Details and prices
-Dolphin Planet – Deep Swimming with Dolphins:
Enjoy a ride with the dolphin in deep water either a dorsal fin tow or belly ride. And it also includes kissing, hugging and dancing with the dolphin.
It is also suitable for kid between 8 to 12 years, but they must be accompanied by adults.
Cost: 630 AED per person in a mixed session.
-Dolphin Planet – Shallow Water with Dolphins:
this one suitable for people who are not comfortable with deep water. The guest will be in water only up to his knee and he can do the same games with the dolphin and gets to interact more with him.
It is also suitable for kids between 7 to 12 years old, but they need to be accompanied by an adult.
Cost: 475 AED per person in a mixed session
Here is your chance to interact with birds, hold them, and take selfies with them in a once in a life experience.
-Photo with Steller's Sea Eagle
-Photo with the Harris Hawk
-feeding other birds (they have 20 types)
Cost: 25 AED.
                              Working Hours
(Monday to Saturday): 10:00 AM to 19:30 PM
(Sunday): Closed