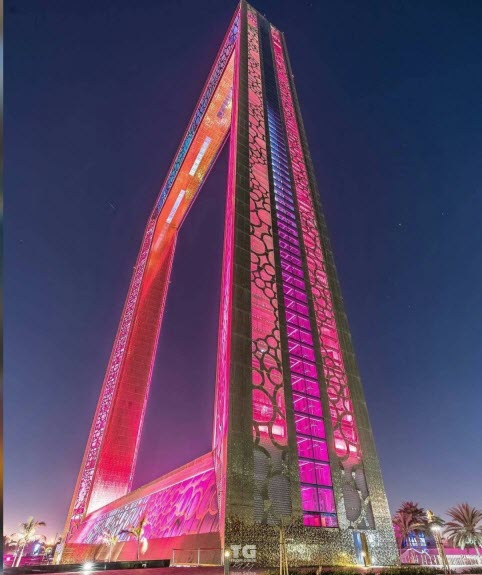 "the biggest picture frame on the planet" with this sentence, The Guardian started an article about Dubai Frame as one of the fascinating attractions in UAE. This iconic building was designed to be a witness of the mixture between the old Dubai and the new one, offering a wonderful panoramic view from a height of 493 ft.
Made from glass, steel, aluminum, and concrete with a total cost of 230 million AED the government of Dubai wanted to establish a landmark to witness the greatness of Dubai. So, the idea of the building is to watch old part of the city from one side, and the other side looks over the new part of the city.
Inside the building and at the highest point (48th floor), there is a glass bridge connects between the two legs of the frame. And with a small culture museum inside so that the visitors may see and be familiar with the old tradition.
Dubai Frame Ticket Price
Adults: 50 AED
Children from 3 to 12: 20 AED
Infants: Free
People with special abilities: Free (two companions gets to join)
Opening Hours
The frame opens all 7 days of the week from 09:00 AM to 21:00 PM