Travel
Dubai Safari Park Tickets, About, Activitie And More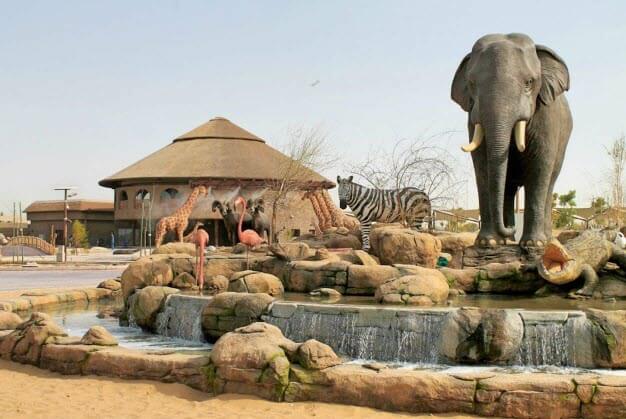 Feeling like a break? Tired of working all week and thinking about taking a day off for yourself to forget all about the stress and enjoy your time? I have the perfect plan for you! I'm sure you've heard about the Dubai Safari Park, but if you haven't, let me tell you all about it.
DUBAI SAFARI PARK LOCATION AND HOW TO REACH IT
First things first, where in Dubai is it? Well, would you be surprised when I tell you that the Park is built on an area of 12.8 million square feet In Al Warqaa 5? And let me tell you, this whole space, is very wisely used.
Reaching the Park is simple, the best way to reach the Park is by your car, yet you can also use the Kiwitietaxi shuttles, or you can take the Metro to the Creek Metro Stop, Green Line and from there you will only need a 16 minute taxi ride to arrive.
DUBAI SAFARI PARK ATTRACTIONS
Now let's talk fun! Once you arrive, you will forget all about your worries and helplessly blend into the amazing vibes of this Park, the chosen design made the perfect mix between luxury and the beautiful natural life, to provide you with the experience that you deserve, and help you connect with the wonders of the wild life.
What is there to do? I did tell you that the Park's space is wisely used, and believe me I didn't lie, let me tell you what you can find there. The Park has different Zones that I'll give you an overview about below:
THE ARABIAN DESERT SAFARI
Welcome to the Park! Once you have parked and passed the entrance, you will find the first zone which is The Arabian Desert Safari, it is a drive-through attraction, before your short trip there begins the Park marshall will cheerfully greet you, and then you'll be ready for the Arabian Peninsula vibes that awaits you, experiencing the fascinating wild desert life, and that's not just it, if you're going with children, they will love to visit the Kids Farm.
KIDS FARM
Because your children's joy matters, and because we all need quality time with our families, this area offers a farmyard and a petting zoo, giving a mixed experience of fun and learning in their educational tours, allowing kids to have direct interactions with the friendly animals.
ASIAN VILLAGE
If you're interested in the Asian wild life, you'll fall in love with this zone, as you'll meet there some of the endangered animals that are native to Asian Countries, that's besides the daily live shows that you'll enjoy there such as Birds of Prey Show and Amazing Creatures of the World.
Live Shows schedule:
Birds of Prey (30 minutes): Daily 4:30pm
Amazing Creatures of the World (30 minutes): Daily 1pm – 3pm
EXPLORER VILLAGE
This is the main attraction of the Park, there you will find yourself surrounded with the incredible mixture of the Asian Jungle and the African rainforests with the Safari Journey activity, and you will also have fun enjoying The Bird Show and Giraffe Feeding.
Live Shows schedule:
The Bird Show (30 minutes): Daily 11am
Giraffe Feeding: 10:30am – 12:30pm – 2:30pm – 4pm
AFRICAN VILLAGE
Ever wanted to visit Africa? No need, Dubai Safari Park is giving you the perfect taste of the African experience, featuring some of the native African animals, if you love elephants as much as I do, you'll surely enjoy this zone meeting the African Elephant, but if you don't, you'll also find in the Reptile House over 50 reptile species, not to mention the The Grand Aviary for all the birdwatchers out there.
WADI AREA
Hungry yet? In Wadi Area, you will be able to relax after your long exciting day, where you can grab a snack or enjoy street food with its tasty flavors, that's besides two restaurants that offer the most delicious food!
CONTACT NUMBER AND OPENING HOURS
I'm already excited, are you? Here's everything you need to know to put your plan in action!
The Park is normally open daily from 9am to 5pm, and given the busy day you'll have there, you'll need to have around 5 hours to enjoy this Park to the maximum.
Buying your ticket is one click away on the Park's official website, you'll find different types of tickets each provides access to different areas, you will also be able to find amazing packages for wider and more entertaining experience, Ticket prices below (People of Determination tickets are for free):
dubai safari park ticket
Adults for 50 AED
Children (age from 3 to 12) for 20 AED
Park Entrance Plus ticket:
Adults for 75 AED
Children (age from 3 to 12) for 45 AED
Safari Journey Package ticket:
Adults for 85 AED
Children (age from 3 to 12) for 30 AED
Safari Journey Package plus ticket:
Adults for 110 AED
Children (age from 3 to 12) for 55 AED
Tickets are recommended if you're going in a group of less than 10 people, but if your group is 10 persons or more, then the Package are suitable for you (packages include 10 persons), they're mentioned below:
King of Safari Package 2500AED
Behind the Scene 1200AED
Breakfast with Birds 2000AED
Jungle Capture 1200AED
Also, if you have any questions or inquiries you can directly contact the Park through:
Phone number 056 511 1400
Toll-free number 800900
Feedback and comments are always welcomed and can be submitted online through their handy feedback form on their website.
Finally, and because safety comes first, rest assured that all COVID-19 safety measure are applied. And now that we covered all the information that you need to spend a day you will never forget, and because visiting this amazing place is much more exciting than reading about it, I will leave you to go buy your tickets.