Travel
Emirates Park Zoo Tickets, Timings, Activities and more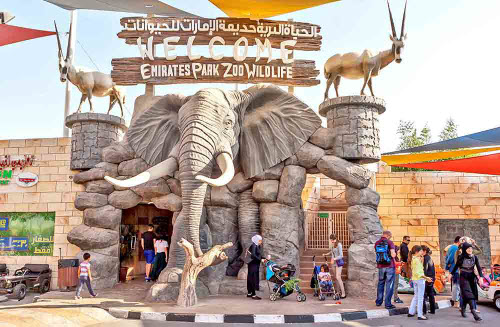 Emirates Park Zoo is the perfect destination for families, and one of the most famous tourist attractions in the Emirates and the best thing that the family might go to visit during the tourism tours in Abu Dhabi because of the recreational activities it provides for children.
One of the most beautiful and attractive parks in Abu Dhabi, with its diverse and rare species of wild animals with more than 1,700 animals including a pair of white tigers, a 31-year-old Siberian bear weighing 300 kg, lions, leopards and zebras in large numbers.
 This park resides in the Bahia area, northeast of the UAE capital, and is distinguished by its water mist system throughout the park, which provides a suitable atmosphere for animals and visitors during the hot summer months.
An overview of the Emirates Park Zoo
The Emirates Park Zoo was opened in 2012, after it was a small zoo for children in 2008, but after the great demand for it and the great success it achieved, a comprehensive expansion was made to officially become the Emirates Park Zoo Abu Dhabi.
How to get to Emirates Park Zoo
Abu Dhabi Zoo is located in Al Bahia area, specifically on Abu Dhabi Dubai Street, 35 km from the middle of the Emirate of Abu Dhabi, about a 30-minute drive and about a 45-minute drive from the Emirate of Dubai (Google Maps).
Emirates Park Zoo Contact Number : +97125010000
Fun activities at Emirates Park Zoo
The Emirates Zoo, or as it is known as Al Bahia Zoo, hosts about 1,700 species of animals, including the white tiger, which belongs to the rare tiger family in the world, the Siberian bear, whose age is estimated at nearly 31 years and weighs nearly 300 kg, and the huge elephants trained to provide shows and many lions and giraffes.
Everyone can see the animals and take memorial photos with them, except feeding them that happens under the supervision of specialists, by provide them specific food from the kiosks spread within the park.
Abu Dhabi Zoo also offers many recreational activities, including:
Have breakfast with giraffes or parrots
Feed the crocodiles
Touching animals
Lunch with cheetahs
birthday parties
The Emirates Park has been divided from the inside so that each section is specialized to a specific animal species, there are special lakes for ducks and geese and others for seals, in addition to a place designated for tigers, leopards and wild cats, and another for monkeys only, and another place for deer residence, and a section dedicated to camels, giraffes, and another for livestock of different sizes and ages.
The Abu Dhabi Zoo also includes various sections for rare wild animals, predators and pets, such as zebra and hippopotamus, a section dedicated to colorful and prey birds, and a shaded marine garden that includes a variety of fish of different sizes, and the garden also includes the largest house for reptiles and amphibians.
also we had to say that the park live set forth shows for dolphins, seals and also elephants, but attendance requires an additional fee in addition to the park's entry fees.
Facilities at Emirates Park Zoo
Emirates Park Zoo includes a range of service and recreational facilities such as; The electronic games area, the nursery for the little ones to spend a fun day, and a medical clinic attached to the nursery and equipped according to the best international standards.
The Emirates Park Zoo also includes a children's barbershop, a shop for souvenirs and handicrafts, where visitors can buy some products manufactured specifically for this purpose, in addition to the availability of a group of restaurants that serve delicious dishes.
Families can spend good times at Emirates Garden Hotel & Resort, as the resort's facilities are equipped with the latest designs and have very beautiful views.
Emirates park Zoo Tickets Price
Entry ticket prices, according to age:
From 3-16 years: 30 UAE dirhams
16 years and over: 35 AED
Children under 2 years old: free entry
Prices and fees for activities in the UAE zoo
3 Activities: 55 AED
5 Activities: 80 AED
There is also a special fee for eating breakfast with animals in the Emirates Zoo. the entrance ticket includes a ticket for breakfast with animals, and we will separate them as follows:
Eating breakfast with the parrot:
Children 4-12 years old: 84 AED
Individuals over the age of 12: 103.95 AED
Eating breakfast with giraffes:
is for groups only, the group must consist of 5 people, the activity fee is 1048.95 AED
Have lunch with leopards according to age
1 person: 156.45 AED
Children under 3 years old: free entry
Lunch with crocodiles
Worktime
Sunday to Wednesday: 9:00 AM – 8:00 PM
Thursday to Saturday: 9:00 AM – 9:00 PM
During Ramadan: 4 pm – 10 pm
Emirates Park Zoo Reviewson tripadvisor
Soliman says: Al Bahia Park Abu Dhabi is the ideal place for all family members, where everyone spends a fun day learning about all the details of wildlife, and is an important destination for children to develop their knowledge of animal knowledge and methods of preserving the environment.
Mariam: Loved it. My child enjoyed a lot and stay was upgraded to a premium suit. Would love to go again. Staff was friendly.
Rachel says: We visited the park and enjoyed the day. Special thanks to Kannan at The Hide restaurant. extended a warm welcome and special attention to our table. Loved the experience. A must visit if you have kids accompanying you!
Manoj says: It was nice trip with family. My kids are enjoyed. The stuff are well educated for Covid protocol always reminding others for social distancing