Travel
global village tickets Price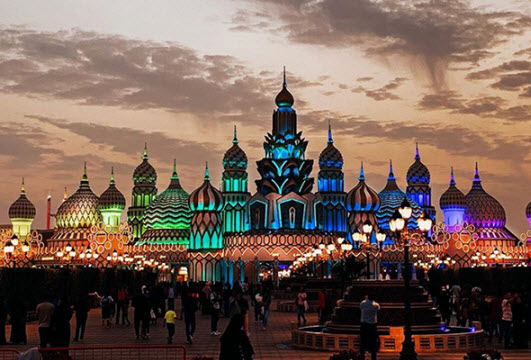 Every season, Global Village draws millions of visitors, making it the world's fourth busiest theme park.
Global Village, founded in 1997, is a one-of-a-kind multi-cultural family attraction. This 1.6 million square meter park is a one-stop-shop for the region's greatest entertainment, shopping, eating, and activities. Global Village, one of Dubai's most popular attractions, takes you on a cultural tour throughout the globe.
Global Village brings together amazing individuals to create fantastic experiences for visitors from all over the world, with the premise that the world's variety and creativity are an endless source of pleasure and that human connection should know no bounds.
What are the locations of the world's global pavilions?
At Global Village Dubai, there are 25 pavilions to tour, representing 78 countries from across the globe. Turkey, Pakistan, Albania, Europe, Khalifa Foundation, Americas, Thailand, Palestine – Jordan, Lebanon, Azerbaijan, Afghanistan, Syria, Japan, South Korea, China, Africa, Egypt, India, Saudi Arabia, Morocco, Iran, Yemen, Bahrain – Kuwait, and, of course, the United Arab Emirates, are among the pavilions. Russia, Cambodia, and Vietnam are all-new this year.
Global Village has a variety of shows and events.
Global Village has over 40,000 amazing concerts and special activities for the whole family for our 26th season! There's something for everyone: shows featuring your favorite characters, traditional cultural performances, street entertainment, spectacular main stage acts, and an awe-inspiring stunt display.
Throughout the season, expect to be enthralled by our jam-packed roster of unique events and celebrations.
How to arrive to Global Village?
The Global Village, which is located in Dubai, UAE, and is easily accessible by car or bus,It is one of the most important and popular family destinations for those who want to shop and entertain, with 25 suites representing 78 countries, including Turkish, Yemeni, Egyptian, Indian, Saudi, Iranian, European, African, and many others, and it is worth noting that the ticket price is relatively low.
When does Global Village open its doors?
Global Village open its doors from Sunday through Wednesday, from 4 p.m. to midnight, and from Thursday to Friday, from 4 p.m. to 1 a.m., Global Village Dubai is open. On Saturdays Global Village will be open from 2pm until 11pm.
The prices of entry tickets at The Global Village
AED 15 per person
prices of entry tickets is free for  children under age 3
The prices of entry tickets at The Global Village including saving pack
Harbour Force Stunt Show AED 15.00 per person
Ripley's Believe It Or Not!  AED 40.00 per person
Ripley's Marvelous Mirror Maze AED 30.00 per person
Pack :Ripley's Museum Attraction + Marvelous Mirror Maze (Save AED 15) AED 55.00 per person
Pack :Ripley's Museum + 4D Moving Theatre Combo (Save AED 15) AED 55.00
Pack:Ripley's Believe it or Not! Grand Combo AED 75.00 per person