Travel
Sharjah Aquarium ticket price, activities, opening times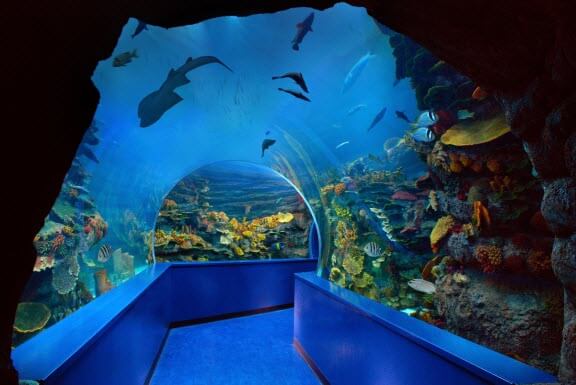 In Sharjah Aquarium, explore the amazing hidden world in the depths of the sea with its amazing creatures, as it reflects a vivid image of the diverse marine organisms that live in the local environment, through a large number of aquariums filled with different types of aquatic life, making it one of the most important tourist destinations in the city Sharjah.
Sharjah Aquarium displays marine creatures as it consists of two floors equipped with about 20 aquariums that contain more than 150 species, including sharks, coral reefs, and moray fish. This and more in Sharjah is one of the most beautiful tourist cities in the Emirates.
Best activities at Sharjah Aquarium
In this captivating world, you can watch many amazing marine creatures at the Sharjah Aquarium, and contemplate the splendor of sea creatures of various sizes among the rocky beaches, coral reefs, and lagoons among the magnificent mangroves.
Visit the Sharjah Museum, which tells the stories of people of the ancient city of Sharjah, where the sea was an important part of their lives.
Children have a distinct area of ​​fun and joy in the Sharjah Aquarium, which includes a wide range of interesting games that are characterized by safety and give them the best times, and children are the responsibility of their parents.
Do not miss to buy souvenirs for your loved ones and friends while you are in Sharjah Aquarium, which provides a gift shop that keeps pace with the nature of the place, represented in the famous fish shapes in Disney World and other wonderful sea creatures.
Take souvenir photos at the various fountains in Sharjah Aquarium to be a memory that lives with you for a lifetime documenting this enjoyable visit among this unique park.
From inside the Sharjah Aquarium cafeteria, you can have a light meal or a refreshing drink while enjoying a stunning view of the sea.
Visiting times of Sharjah Aquarium
It works on Saturdays and Tuesdays to Thursdays from 08:00 in the morning until 20:00 in the evening.
Friday from 16:00 pm to 22:00 pm.
Sundays it is closed.
Aquatic creatures at Sharjah Aquarium
Visitors come to the Sharjah Emirates Aquarium to discover the mystery of the vibrant marine depths full of charming colors.
The Sharjah Aquarium Museum displays more than 150 species of marine creatures, which amaze you with their different types, shapes and sizes. You can learn about:
clown fish
Seahorse
eel
sea ​​rays
reef shark
In addition to small and large marine organisms that live in rocky environments, coral reefs and mangroves, the museum brings its visitors to the depths of marine life in its wide forms and different patterns.
The Sharjah Aquarium Location
The Sharjah Aquarium is located in the old Al Khan area, next to the Sharjah Maritime Museum.
Sharjah Aquarium Tickets price
The price of entry tickets is:
Children (under 2 years): Free
For children (2-12years), 15 dirhams
For adults (+13) is 25 dirhams
Sharjah Aquarium Contact
Telephone : +971(6)-528 5288
Fax : +971(6) 528 6644
Email: [email protected]
Sharja Aquarium Opening time
Mon-Thu: 8:00 AM – 8:00 PM.
Fri: 4:00 PM – 10:00 PM.
Sat: 8:00 AM – 8:00 PM.
Sun: Closed.
Necessary facilities to serve visitors
In order to facilitate the visit for the guests and provide all the necessary conditions for their comfort and spend enjoyable and useful times, the Sharjah Aquarium includes all the important facilities that the visitor needs, including:
Free Wi-Fi
A chapel
An entrance for wheelchairs
A changing place for children
An elevator
A mothers room
A café Gift shops
Car parking area
Reviews
David said: very nice place to take kids and for families. The dim lights and the sea creatures makes you feel that you are living under the sea with them.
Karim said: A day of experience and exploration with the kids. took photos with different sea creatures, seeing shark for the first time, turtles, sting rays and a colorful types of fishes .a day well spent !!
Prasanth said: Go, fly, road, travel, voyage, explore, journey,  discover, adventure.  A great experience.
Good for kids, good value for tickets entrance.