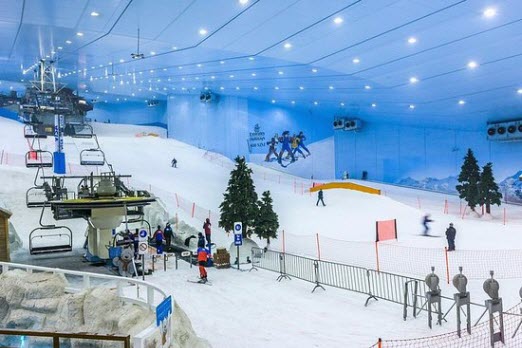 Get your snow board ready. It is true that we are not in Canada, and we are not even in the winter yet, but Dubai brought the snow to the desert, so you can ski as much as you want and play with penguins.
Enjoy a 22,500 Square meter ski area in a 1 to 2 degrees on Celsius scale. The ski area is located at Mall of Emirates (one of the largest in the world).
The ski area was opened back in 2005 where a huge indoor snow mountain was created (85 Meters), and in 2007 Thea Outstanding Achievement Award was given to Ski Dubai.
Also, if you are a penguin lover, you will love the place as they have penguins in the resort that are let of their enclosures in specific timing through the day and you can feed them and interact with them. The penguin events tickets could purchase separately.
Ski Dubai Tickets
Slope Packages:
Student Night: 160 AED
Unlimited chairlift
3 Hours Session
Locker to keep your stuff
Equipment rental
2 Hours Slope: 220 AED
Unlimited chairlift
2 Hours Session
Locker to keep your stuff
Equipment rental
Full Day Slope: 320 AED
Unlimited chairlift
Full Day
Locker to keep your stuff
Fleece Gloves
Equipment rental
Snow Park Packages:
Snow Daycation Pass: 275 AED
Snow Park Access (for one day)
Snow Park Rides (for one day)
Zorb Ball (Unlimited access)
Chairlift (one lift only)
Mountain Thriller (unlimited access)
Choose one of the following four (Snow Bullet Ride / Penguin Encounter / Ski or Snowboard Discovery Lesson / Slope Session)
Locker to keep your stuff
Fleece Gloves
Equipment rental
Snow Park: 175 AED
Snow Park Access (One Time Only)
Snow Park Rides (One Time Only)
Zorb Ball (Unlimited access)
Locker to keep your stuff
Equipment rental
Snow Premium: 490 AED
Snow Park Access (Unlimited access)
Snow Park Rides (Unlimited access)
Zorb Ball (Unlimited access)
Chairlift (Unlimited access)
Mountain Thriller (unlimited access)
Snow Bullet Ride (unlimited access)
Penguin Encounter (40 Minutes)
Choose of the following two (Ski or Snowboard Discovery Lesson / Slope Session)
Locker to keep your stuff
Meal (1 Meal)
Hot Chocolate (1 Drink)
Waterproof Gloves
Equipment rental
Penguin Packages:
Peng-Friend Encounter: 230 AED
Penguin Encounter (40 Minutes)
Locker to keep your stuff
Fleece Gloves
Equipment rental
Breakfast with Penguin Walk: 175 AED
Walk with penguins
Locker to keep your stuff
Breakfast (1 meal)
Fleece Gloves
Equipment Rental