Travel
Umm Al Quwain Zoo Ticket Price, Overview, Working Hours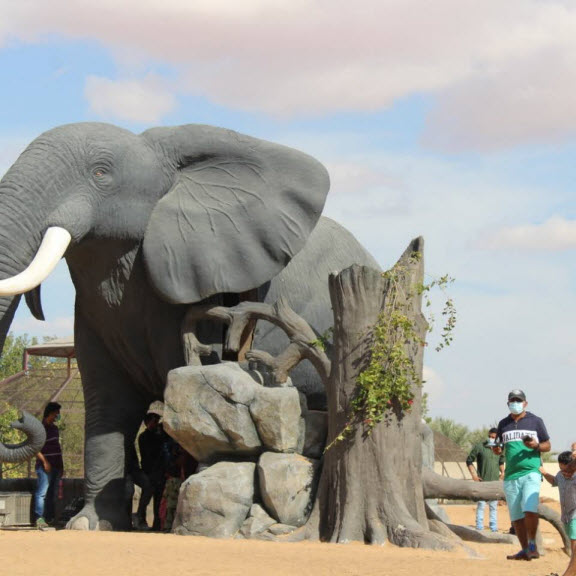 Do you love animals? I'm sure you do, but even if you don't, I'm sure the children in your family do, and for that, I have a very unique zoo experience waiting for you in your weekend plan! Have you heard about The Zoo Wild Life Park in Umm Al-Quwain? It's okay if you haven't, I'll tell you everything you need.
The Zoo Wildlife Park Umm Al Quwain
The Zoo Wild Life Park in Umm Al-Quwain, is a recently launched private zoo, yet has built a very solid reputation in a very short period. And what makes it very unique, is that their mission is not only to entertain, but to educate and break down the fears by offering a safe, controlled, direct interaction with different species.
And they don't stop there, following their purpose, and their ultimate care about our children, they offer to visit schools, private events, and even homes, bringing the whole adventure to your door, ensuring a secured, life changing experience.
Umm Al-Quwain Zoo Activites
In The Zoo Wild Life Park in Umm Al-Quwain you can play and even Instagram yourself with a tiger cub, or if you like feeling dangerous, which it isn't all animals are trained and like humans, you can pose with a python. The orangutan, named Habooba, is playful and she loves fruits and playing with kids and with people. She loves going on walks with visitors around the park to have fun with them. You can also enjoy playing with iguanas or enjoy talking to the parrots and having fun with the birds. The staff is very professional and highly trained to keep your children and the animals safe. And as per the philosophy or The Zoo Wild Life Park in Umm Al-Quwain, every one of the staff members and owners wish for you to have a great day and will do anything for that to happen. Your kids can enjoy a camel ride or a horse ride in there for free as well!
The Zoo Wild Life Park in Umm Al-Quwain is a bit small but as we said it's still under construction so it'll only get better and better and expand even more with more animals and more species! You can see all the animals and play with them in under 3 hours making it an amazing place to go to and have a picnic.
Umm Al-Quwain Zoo Location
The Zoo Wild Life Park in Umm Al-Quwain is a 40-minute drive from Sharjah. Sadly, you can only go there using a car and you have to trust your GPS navigator as there's no indicators on the roads because it is still under construction and they'll hopefully add signs to help visitors reach the zoo, but it's really worth the trip! It does not have a contact number as it is a private zoo but you can buy your ticket right at the front gate! (Google Maps Directions)
Umm Al-Quwain Zoo Working Hours

Every day! Beside their outdoor visits, you can always visit them anytime between 10am to 6pm, and you will always find them waiting for you, to help create some new unforgettable moments for you and your family. The perfect time to explore the zoo is at the weekends. If you are a snake admirer, then you should note that it is open during weekends only. You can hold the snake and let it walk on your body. You would be amazed by knowing that you will never feel like a zoo as you can explore the animals closely without any issues at all. There are no restrictions in this zoo which means you can go wherever you want at any time.
Umm Al-Quwain Zoo ticket price
Excited yet? Let me get you even more pumped up, will you believe me when I tell you that the ticket fee for this amazing zoo is only 25 Dirham per person? And another bonus, you do not get charged any extras inside the park, all activities included in your ticket fee!
Also, you don't need to buy your ticket online, you just simply visit the park, pay the ticket, and enjoy your day, that simple! And if you have any comments or feedback, you can always email them directly on: [email protected], because your opinion always matters.
Now, I can go on and on about The Zoo Wild Life Park in Umm Al-Quwain and how it really offers a whole different experience compared to any other zoo in the UAE, offering you a real chance to directly interact with different species in ways you won't find anywhere else, but why talk so much when you can see for yourself? It will be worth it.
Umm Al-Quwain Zoo Reviews

Here's a review rating it 3/5 stars on tripadvisor written on July 2021 recommending going to The Zoo Wild Life Park by saying that it's a very family friendly park even though it was a bit expensive for him and it is open throughout the week from 8 AM until 7 PM except Fridays where the close at 10 PM.
He said you are allowed to interact with few animals including the baby tiger, Snakes, Orangutan, and pony. The author enjoyed his time playing with the orangutan and said she's very friendly and energetic. However, he was disappointed that he couldn't feed the animals.
He liked that there are more lions and tigers than any other animals here and that you can enjoy watching all of them very closely, too.
He also recommended that you should visit The Zoo Wild Life Park with your loved ones! And he praised that the parking is free and there's a lot of parking space. He also talked about how the place was still under construction during his visit but still recommends visiting it.
Overall, the reviewer really liked The Zoo Wild Life Park and enjoyed his time in it! I'll leave you now to go plan your visit!
Best Hotels in Umm Al Quwain | Booking.com