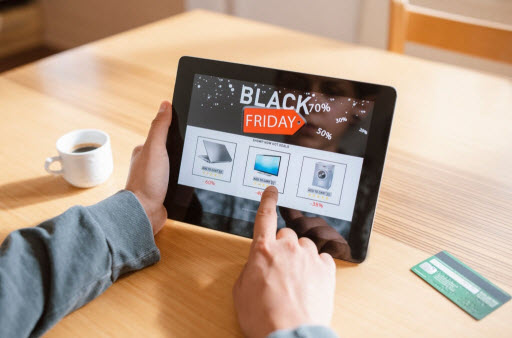 Black Friday It is the day we wait from year to year. It is the New Year's Eve of the shopping lovers. Discounts are everywhere and prices goes down. Some shops offer up to 70% discount.it usually takes place the 26th of November of every year.
Making a flashback to 1961, policemen used to say this expression to describe the crowded streets and traffic jams the day after thanksgiving. and in the old history of USA, the expression was used when economy went down, and people started to lose a lot of money (Panic of 1869). Now the expression being used as an American expression refers to the first Friday after Thanksgiving Day. And with everything changing by time, it is now our beloved Black Friday.
Below are the spent amounts on Black Fridays for the past four years. After reaching such a huge number of 7.5 billion USD in 2019, then in 2020 during the pandemic of covid-19 there is an increase of 20.4%.
Black Friday Year Amount Spent in USD
| | |
| --- | --- |
| Amount Spent in USD | Year |
| $5.03 billion | 2017 |
| $6.2 billion | 2018 |
| $7.5 billion | 2019 |
| $9.03 billion | 2020 |
So, with all these numbers provided do you think the numbers will increase? Or is it going down?
If you are not shopping online during black Friday, then you will be doing shopping in the real world. And if you are a regular shopper then you must have witnessed a lot of fights over the last piece of the product, or a fight over whose turn in the line it is. In the next line will tell you some stories and situations happened in Black Friday.
Stories and Incidents
One of the sad facts about Black Friday is that some people can go really crazy to save some money. Records in USA shows a count of 19 death cases and 117 Injuries between 2006 and 2020. It is sad that a live of someone is less important than a last-minute deal. We will thread few light incidents in the following lines.
For example, and according to a retail worker who had an interview with a magazine, he mentioned that a customer with a broken leg hit him in the face with one of his crutches because the retailer did not know the place of the item that the customer was looking for.
Another retailer has mentioned that two people had a fist fight over a toaster and it ended up with the microwave broken.
a security guard was beaten by customers waiting in front of the door because they thought he was going to step over people's turn. Whole the guy was just trying to enter the store to start his shift.
– a 32-year-old woman from California used pepper spray on the crowd in order to take a discounted Xbox, and around 20 customers suffered an injury.
a guy was caught trying to hide a Blu-ray player in the front of his jeans.
one of the strange incidents that happened, two men were shooting on each other over a toy in Toys R Us in 2008, and the incident took place in South California.
Money Spent in Europe
Here is a small comparison in Europe shows the difference between 2019 and 2020 when it comes to the average spent per person. This comparison is made by statista.com
| | | |
| --- | --- | --- |
| Country | Amount Spent in 2019 | Amount Spent in 2020 |
| UK | 223 EUR | 261 EUR |
| Germany | 205 EUR | 242 EUR |
| Denmark | 278 EUR | 286 EUR |
| Spain | 195 EUR | 260 EUR |
| Italy | 188 EUR | 209 EUR |
| Netherlands | 204 EUR | 236 EUR |
| Sweden | 238 EUR | 245 EUR |
| Turkey | 207 EUR | 265 EUR |
Money Spent in UAE
The average global budget per person is between 230 USD to 300 USD while UAE and KSA the average amount spent is 400 USD in 2020 compared to 291 USD back in 2018. These numbers put UAE and KSA on top of the spenders list, and with high expectations in 2021 and a lot of expected revenue from the region.
Popular Brands and Shops participates in Black Friday
H&M
Souq.com
ZARA
Jumia
Reebok
Ebay
Walmart
Carrefour
Adidas
ALDO
Nike
Lenovo
HP