general
Best Coworking Space In Abu Dhabi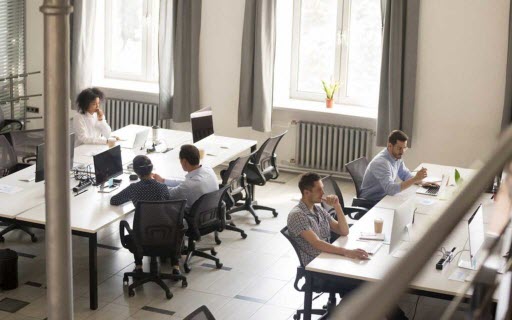 If you are looking for a quiet place and a large space in which you can do your work, in this article we will show the best co-working spaces in Abu Dhabi and the best features of each one of it.
What are co-working space facilities?
They are office spaces that follow an updated style of the workplace concept, where business owners from different companies share an open work space and each company has its own office space.
The workspaces are equipped with the latest and highest capabilities, and one of the most important features of the co-working spaces is that you will not have to sign long-term lease contracts, and it is worth noting that it not only brings together businessmen and entrepreneurs, but is also a destination for students wishing to complete their university projects and research.
As for the services provided by the shared work spaces, they often include internet service, meeting rooms, a space for rest and entertainment, and a coffee corner.
Best Co-working space in Abu Dhabi
Companies that provide co-working spaces are distinguished by taking the most famous commercial towers that occupy strategic locations as their headquarters, to have famous addresses known to everyone, and those who wish to know the prices of co-working spaces in Abu Dhabi in the places mentioned below can visit their websites.
Hub 71
We begin our list of co-working spaces in Abu Dhabi with Hub 71 space in Al Khatim Tower, owned by WeWork, which is known for providing exceptional workspaces worldwide.
Hub 71 is characterized by providing the latest facilities and modern services to serve individuals and companies to the fullest. Distinguished services and amenities at Hub 71 include the following:
High speed wifi
Meeting rooms
Site employees are working to provide everything that individuals need during working hours
Unique common spaces
Private rooms for business meetings
Kitchens equipped with the best facilities and services
High quality printers
Routine cleaning
Private parking
An event space with sound system and light controls
Coffee maker or barista
Fun games area
Electric car charging stations
 As for the precautionary measures that it follows in light of the Corona virus pandemic, the place is sterilized every two hours with the aim of preventing the Corona virus in the workplace, and sterilization are available distributed throughout the place, and kitchen belongings have been replaced with plates and paper cups for single use, in addition reducing furniture to apply Spacing between employees.
Location: Al Khatim Tower, Abu Dhabi Global Market, Al Maryah Island
Servcorp Ltd
Servcorp is one of the leading companies that provide co-working spaces in 22 regions around the world, and Abu Dhabi is one of them.
The categories of workspaces include equipped offices, virtual offices, co-working spaces, and meeting rooms.
All facilities are distinguished by their luxury and modern designs. They are also equipped with the latest services, most notably the Intercept service, which transfers all company calls to the Intercept customer service and responds in the manner and standards specified by the company, and then transfers the call to the concerned person.
Servcorp provides co-working spaces in two areas, and here are the details of each of them:
World Trade Center
The World Trade Center in Abu Dhabi is characterized by its strategic location, which makes access to most of the prominent areas of the Emirate of Dubai very easy, for example, the center is about 25 minutes from Abu Dhabi International Airport. 160 stores and 20 restaurants.
Contact: 02 654 4100
Etihad Towers
Servcorp's second location in Abu Dhabi is Etihad Towers, which occupies a distinctive strategic location, opposite the new presidential palace, and 5 minutes away from the Ministry of Presidential Affairs.
The facilities of the tower are distinguished by their luxury and modern architectural designs. The facilities and services of co-working spaces in Abu Dhabi at Etihad Towers are no less luxurious than the tower.
 Servcorp offices are located on the 36th floor and have been designed to meet the needs of individuals to the fullest. There are ample parking spaces, 24-hour security, around 24 elevators, and a number of restaurants, cafes, and jewelry and fashion stores on the ground floor of the tower.
Contact: 02 409 3100
Cloud Spaces
Cloud Spaces opened the first co-working space in Yass Mall, to be the first of its kind in a commercial mall in the GCC region, where workers can enjoy the advantage of being close to Yass Mall restaurants and shops.
All Cloud Spaces workspaces, whether semi-private or fully private, are equipped with the following facilities and services:
The latest technology with a private phone number
Access to all necessary office equipment
Support team for all members
Private meeting rooms equipped with all necessities
Studios of the highest specifications for photography and recording are available to book by the hour or by the day
Cafe runs by Drop Coffee
Indoor mini golf
The business centers in Cloud Spaces Yass Mall are distinguished by providing a group of inspiring departments, and in light of the Corona pandemic, the highest standards of security and safety are applied and instructions and regulations are followed in this regard.
 A co-working space is expected to open at the World Trade Center, details of which can be found by visiting the official Cloud Spaces website.
Location: First Floor, Yass Mall
Contact: 3500 410 02
Al Bateen Tower
There are well-equipped workspaces in Al Bateen Tower that include co-working spaces equipped with the latest facilities and services.
 These office spaces are located on the first and second floors of Al Bateen Tower C6. The workspaces are divided into shared offices, office suite, indoor office, office with window, in addition to a business salon that can be Use it without prior reservation as meeting rooms. As for the services, they include high speed internet, document scanning and printing services, and corporate administrative support services.
Location: Al Bateen Tower C6, Baynunah, Floors 1 and 2, Street 34, Abu Dhabi Islamic Bank Building
Contact: 04 313 2503
GLASSQUBE COWORKING
GLASSQUBE Is considered as one of the largest ecosystem that offers us a suitable and quite co-working spaces in Abu Dhabi.
GlassQube has co-working spaces in too many locations such as Corniche, Khalidiyah and Al Reem Island. But they have a popular one in Krypto Labs and it distinguished by speed internet and amazing office equipment and lounges you can relax in, Parking free.
Startups are an incubator in Krypto with an affordable price start from 195 AED per month
Location: Multiple including Level 4# Silver Tower, Corniche
Contact: +971-2-312-7500
Regus
It contains co-working spaces in Abu Dhabi and offers a professional working environment, clients of this place can enter meeting rooms and parking spaces
Prices vary depending on the location you choose. Prices in Tamouh Tower start from 1,370 AED per person per month, and the monthly rent for shared units in B1 landfill starts from 640 AED.
Co-work space is also available in Al Bateen Tower, prices from AED 530 per month.
Location: Multiple Including B1 Building, 1st Floor, Cubes Park ICT
Contact: +971-2-411-4500
WITWORK
Witwork is a popular and common platform that allows you to complete your work. You just have to choose a group of locations in order to set up your business station in Abu Dhabi.
The most famous places are the Jasmine Lounge at the Beach Rotana Residence and the Aroma Lobby Lounge which is located on Al Khaleej Al Arabi Street
The prices of this place are very different, as it offers 3 packages and its weekly cost is 150 UAE. For professionals who are looking for a place for the long term, the monthly package is 350 UAE, while the quarterly package is available for 900 UAE
Location: Multiple Including Al Khaleej Al Arabi Street, Al Khaleej Al Arabi Street
Contact: +971-50-622-7614
FLAT6LABS
A global technology hub with plenty of space for all the startups in Abu Dhabi where ideas are exchanged when collaborating with like-minded people and productivity is boosted.
It has many office equipment, fast internet, meeting rooms, a kitchen, and a fingerprint scanner 24 hours a day for all companies and its prices are different according to the start of work
Location: 5F 501 Rotana Office Complex TwoFour54 Khalifa Park
Contact: +971-2-622-0365
MAKATEB BUSINESS CENTER
In Makeen city, and it has a large group of co-working spaces in Abu Dhabi, and it has a strong internet network, modern office tools, comfortable seating arrangement and places to relax, and their prices vary, and the price is on the hour system.
Location: 13th, 14th and 15th Floors, McCain Tower
Contact: +971-2-657-3400