Events
GITEX Dubai 2021 : Dates, Ticket Price And sessions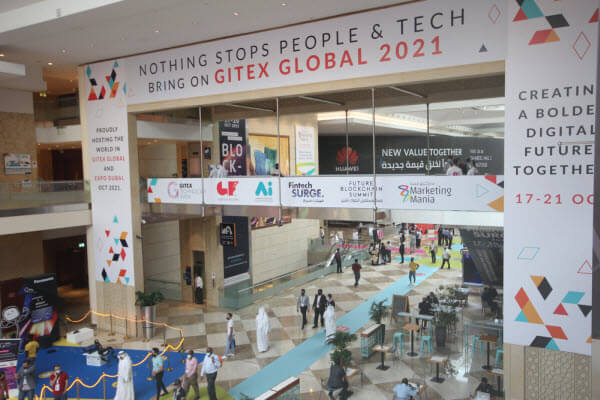 Sometimes you wonder what is new happening, what are the new inventions took place, what is the most trending style in the world of fashion, and since technology is the most field with continuous innovation you would always love to know what is new in technology to be up to date with the outside world. So, the first thing you do is to check for the EXPOs taking place. And one of the most important EXPOs in the world for more than 40 years, is GITEX TECHNOLOGY EXPO.
GITEX technology week in Dubai is happening from the 17th to the 21st of October and it is taking place at Dubai World Trade Center with high expectations after the fascinating success of the previous year.
The fact is that GITEX has been a very successful event through the past 40 years. Back in 2020 despite COVID-19 Pandemic when GITEX took place, it had participants from 60 different countries, and it made a total of 1,200 companies joining. This year the EXPO has more than 4,500 exhibitors from around the globe including the top technology companies in the world with more inventions and more dazzling progress in the world of technology.
The fields covered in this EXPO are as follows: Cyber Security – Data Economy – Telecom 5G – Digital Cities X AI – Future Mobility.
Looking over the topics and fields covered in the event makes it the place you want to be at to figure out the changes happening to the world in the very near future to be able to keep up with it as we cannot live without technology today.
It is good to know that the sponsors of this event are divided into three categories (Platinum Sponsors – Gold, Silver, and Bronze Sponsors – Conference Sponsors)
The platinum sponsors of this year are ERICSSON and HUAWEI along with Etisalat joining as a gold sponsor, and MICROSOFT and DU joining as silver sponsors, while CISCO and RED HAT are the bronze sponsors of the EXPO.
And here is a list of the conference sponsors (AVAYA – TEAM VIEWER – LENOVO – AMDOCS – SKEY NETWORK – HONEYWELL – ALTERYX – SNOWFLAKE – KPMG – EDB BAHRAIN)
And to make it much easier for you to choose the sessions you want to attend since GITEX will last for Four days, here is a detailed list of the featured sessions.
–17th of October 2021
1:50 pm – 2:10 pm Keynote: Moving towards a 21st century government workforce using AI
2:10 pm – 2:30 pm Edge transforming to cloud: Business outcomes at the edge
3:50 pm – 4:25 pm: Fireside Provocative Talk – AI singularity: Are we creating human race's greatest and last accomplishment?
12:00 pm – 1:00 pm Red Hat: Cloud Devops
2:05 pm – 2:25 pm: Leveraging AI for Effective Energy Management and Diversification
2:50 pm – 3:10 pm: How Ocean advances AI, research and the data economy
-18th of October 2021
3:15 pm – 3:30 pm: A brain on a chip? Neuromorphic computing and the future of decentralization
12:40 pm – 1:10 pm: Spark Talk: From the Tech heads who call the shots – A 10-point action agenda
11:00 am – 11:30 am: The musical sound of tech
3:00 pm – 3:20 pm: Engaging Life Sciences
11:30 am – 11:45 am Keynote: AI is human centered
-19th of October 2021
11:00 am – 12:30 pm: Data Analytics with Python
3:45 pm – 4:20 pm: Panel AI, XR & emerging tech – revolutionizing education end-to-end
11:05 am – 11:45 am: 5G Driving Entertainment Innovation: Reaching New Audiences in VR and AR
1:30 pm – 2:00 pm: Space Based Networks: Complement or Extraterrestrial Option to 5G Expansion?
2:15 pm – 2:45 pm: Cloud X Open Ran = Greater than the Sum of its Parts?
12:10 pm – 12:40 pm: Digital Drag Race – Incumbent banks vs big tech
-20th of October 2021
11:30 am – 12:15 pm: How does anthropomorphic language create algorithmic liability?
12:00 pm – 1:00 pm: Self-Driving Cars Are Coming
11:00 am – 11:20 am: Connected cars – a disruption in the automotive market
11:40 am – 12:20 pm: Optimizing planetary mobility for the future
12:15 pm – 1:00 pm: Dubai's 3D printing strategy: Is AI the key?
4:00 pm – 4:45 pm: Ethics of data, algorithms and usage
In the next few lines, we brought you the ticket prices for you to be aware. And if you are a student, you cans end your claim and you will get a promo code with discount.
Gitex Dubai 2021 Tickets Price
Visitor Pass Ticket (Exhibition Only): 220 AED
Delegate Pass (Exhibition, Conference and Workshops): 350 AED and this is the most popular ticket
Workshop Pass (Exhibition and Workshops): 500 AED